Signage Design of the Gasmin Field Bandung
Sri Soedewi

Telkom University

https://orcid.org/0000-0002-1378-329X

Djoko Murdowo

Universitas Telkom

Ratri Wulandari

Universitas Telkom

Arnanti Primiana Yuniati

Universitas Telkom

Putu Harry Gunawan

Universitas Telkom

Annisa Aditsania

Universitas Telkom

Athaya Fatharani Adrin

Universitas Telkom

Bhanu Prabasworo

Universitas Telkom
Keywords:
Design, Signage, Wayfinding
Abstract
The Gasmin Field is a public facility area located in Antapani, Bandung city. This field often uses for general community activities such as sports, gatherings, bazaars, ceremonies, and other activities. The condition of the environment around the Gasmin Field area is not well maintained. The absence of signage makes comfortless and makes it difficult for visitors when they want to find the target area. Therefore, signage and wayfinding designs are needed to make it easier to access locations around the Gasmin Field and increase visitor convenience. Design-based research use as a design method for Environmental Graphic Design (EGD) includes predesign, design, and post-design and data collection. Observations, interviews, and literature studies were carried out to obtain data and analyzed. The results of data analysis used to design signage and wayfinding in the Gasmin Field, Bandung City, West Java.
Downloads
Download data is not yet available.
References
Calori, C., & Vanden-Eynden, D. (2015). Signage and Wayfinding Design (2nd ed.). John Wiley & Sons, Inc.
Christine, D., & Holloway, I. (2008). Metode-metode Riset Kualitatif dalam Public Relations dan Marketing Communications (C. Wiratma (ed.)). Bentang.
Follis, J., & Hammer, D. (1979). Architectural Signing and Graphics (1st ed.). Whitney Library of Design.
Frutiger, A. (1989). Signs and Symbols, Their Design and Meaning (A. Bluhm (ed.); 1st ed.). Van Nostrand Reinhold.
Gibson, D. (2009). The Wayfinding Handbook, Information Design for Public Places (1st ed.). Princeton Architectural Press.
Mulia, R., & Jamhari. (2020). Wawancara Kondisi eksisting Taman Gasmin.
Safanayong, Y. (2006). Desain Komunikasi Visual Terpadu. Arte Intermedia.
Sihombing, D. (2017). Tipografi dalam Desain Grafis (2nd ed.). PT Gramedia Pustaka Utama.
Tinarbuko, S. (2004). SEMIOTIKA ANALISIS TANDA PADA KARYA DESAIN KOMUNIKASI VISUAL. Nirmana, 5(1). doi:https://doi.org/10.9744/nirmana.5.1.
Tinarbuko, S. (2008). Semiotika Komunikasi Visual. Jalasutra.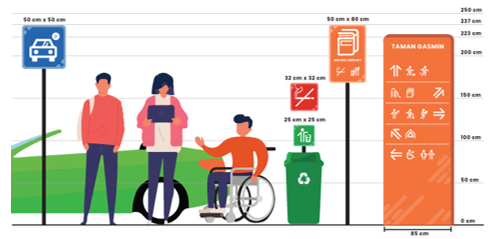 How to Cite
[1]
S. Soedewi, "Signage Design of the Gasmin Field Bandung", Visualita, vol. 9, no. 1, pp. 169-180, Oct. 2020.
Copyright (c) 2020 Sri Soedewi, Djoko Murdowo, Ratri Wulandari, Arnanti Primiana Yuniati, Putu Harry Gunawan, Annisa Aditsania, Athaya Fatharani Adrin, Bhanu Prabasworo
This work is licensed under a Creative Commons Attribution-NonCommercial 4.0 International License.
Authors who publish with Visualita agree to the following terms:
Authors retain copyright and grant the journal right of first publication with the work simultaneously licensed under a Creative Commons Attribution-NonCommercial 4.0 International License.

Authors are able to enter into separate, additional contractual arrangements for the non-exclusive public distribution and display of the journal's published version of the work (e.g., post it to an institutional repository or publish it in a book), with an acknowledgement of its initial publication in this journal.

Authors wishing to include items (such as images or other media, or any creative works of others whether previously published or not) must contact the original copyright holder to obtain explicit permission to publish these items in Visualital. Writing permission should include: the title(s) of any copyrighted work, original place of publication if applicable, and an acknowledgement of having read Visualita copyright notice. Authors are responsible for obtaining this permission and keeping it in their own records for later verification.