TATA KELOLA TEKNOLOGI INFORMASI DI UNIVERSITAS PQR BERBASIS FRAMEWORK COBIT 4.1
Iskandar Ikbal

Teknik Informatika FTIK UNIKOM
Abstract
UNIVERSITAS PQR adalah salah satu Perguruan Tinggi (PT) swasta yang ada di Indonesia, telah mengimplementasikan Teknologi Informasi (TI) dalam mendukung dan mempermudah jalannya operasional organisasi / institusinya. Namun pada kenyataannya implementasi dan pemanfaatan TI di UNIVERSITAS PQR masih belum terkelola dengan baik dilihat dari beberapa indikator yaitu perencanaan dan pengembangan strategis TI yang masih dilakukan secara sporadis, nilai tambah dari implementasi dan pemanfaatan TI masih sangat kecil, penggunaan sumber daya TI belum menunjukkan kepada tingkat efisiensi dan efektivitas, serta dari sisi keamanan dan risiko TI dirasa kurang begitu mendapat perhatian. Tujuan yang ingin dicapai dalam penelitian ini adalah untuk mendapatkan bentuk tata kelola TI yang sesuai dengan UNIVERSITAS PQR.
Dari hasil penilaian proses-proses TI terpilih sebanyak tujuh belas proses secara mayoritas tingkat kematangan tata kelola TI UNIVERSITAS PQR saat ini berada pada level satu atau Ad Hoc/Initial. Target tingkat kematangan tata kelola TI yang ingin dicapai adalah pada level tiga atau Defined.
Untuk mencapai target tingkat kematangan yang diinginkan, dapat direkomendasikan lima hal yaitu restrukturisasi struktur internal divisi IT, mendokumentasikan kebijakan dan standard operating prosedur (SOP), melaksanakan program awareness, mengadakan pelatihan dan pendidikan terhadap SDM TI, dan memanfaatkan best practice sebagai acuan dalam tata kelola TI.
Kata Kunci : Tata Kelola, Teknologi Informasi, COBIT.
References
David, F. R, Strategic Management, New Jersey, Prentice Hall. 1996.
IT Governance Institute, Board Briefing on IT Governance, 2nd Edition, IT Governance Institute, 2003.
IT Governance Institute, IT Governance Executive Summary, IT Governance Institute. 2003.
Guritno, S, Sudaryono dan Rahardja, U, Theory and Application of IT Research (Metode Penelitian Teknologi Informasi), Andi Publishing, Yogyakarta. 2011.
Universitas PQR, Rencanan Strategis Universitas PQR 2016-2020 (RENSTRA), Universitas PQR. 2015.
Suryana, T, Implementasi Balanced Scorecard (BSC) Sebagai Alat Ukur Kinerja Perguruan Tinggi Studi Kasus di Univ. PQR, ICT & Multimedia Univ. PQR. 2010.
IT Governance Institute, "COBIT 4.1: Framework, Control Objectives, Management Guidelines, Maturity Models"., IT Governance Institute, 2007.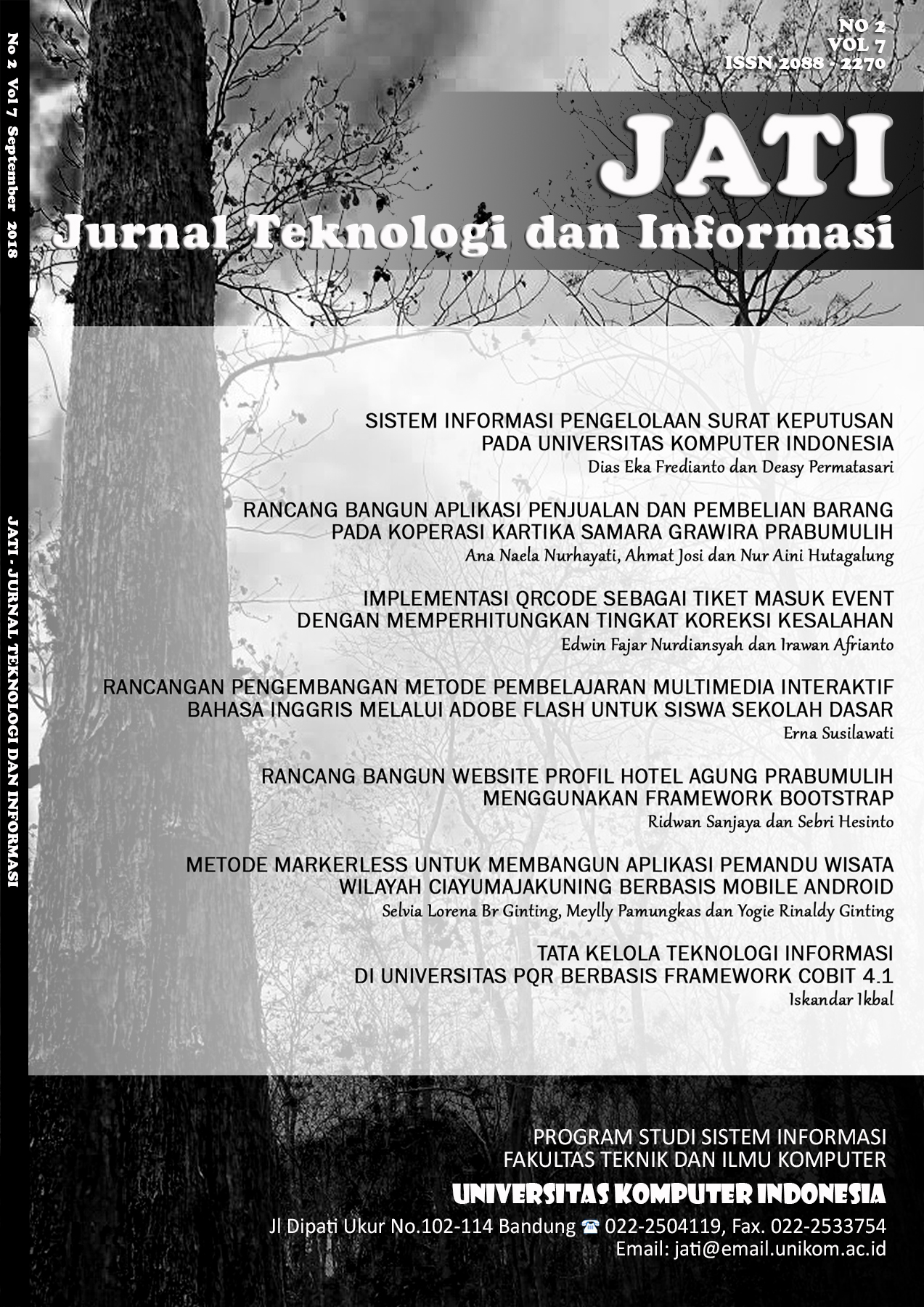 How to Cite
[1]
I. Ikbal, "TATA KELOLA TEKNOLOGI INFORMASI DI UNIVERSITAS PQR BERBASIS FRAMEWORK COBIT 4.1", JATI, vol. 7, no. 2, pp. 79-101, Sep. 2017.

This work is licensed under a Creative Commons Attribution-ShareAlike 4.0 International License.