SISTEM MONITORING TANAMAN HORTIKULTURA PERTANIAN DI KABUPATEN INDRAMAYU BERBASIS INTERNET OF THINGS
A Sumarudin

Willy Permana Putra

Teknik Informatika Politeknik Negeri Indramayu

Eka Ismantohadi

Teknik Informatika Politeknik Negeri Indramayu

Supardi Supardi

Teknik Informatika Politeknik Negeri Indramayu

Muhammad Qomarrudin

Teknik Informatika Politeknik Negeri Indramayu
Abstract
Kabupaten Indramayu secara umum memiliki kontur tanah yang datar disepanjang jalur pantai utara, ketinggian tanah didaerah ini hanya 0-10m diatas permukaan laut sehingga memudahkan petani dan pekebun untuk mengolah tanahnya. Tugas petani dan pekebun kita diantaranya adalah membajak, memberi pupuk dan mengairi sawah, menghalau wabah hewan pengerusak, melihat level air pada tanaman serta menjaga tingkat kesuburan tanah. Kegiatan pengelolaan tanah ini berpotensi untuk kehilangan standar kerjanya karena dilakukan secara berulang oleh manusia, selain itu manusia pasti akan melakukan kesalahan sehingga pengolahan tanah menjadi tidak maksimal. Dengan adanya sistem monitoring oleh perangkat komputer yang bekerja secara otomatis ini pekerjaan petani dan pekebun kita menjadi lebih terbantu karena perangkat monitoring tidak akan lelah memantau keadaan tanah dan sistem tidak mungkin melakukan kesalahan analisis terhadap keadaan tanah seperti yang saat ini banyak terjadi. Data/informasi yang dimonitor oleh sistem monitoring ini diantaranya adalah kelembaban tanah, suhu tanah, tingkat kesuburan tanah dan masa tanam. Data diambil dari end device dikirim menggunakan radio frequency ke gateway. Dari gateway sebagi broker akan dikirim ke midleware. Sistem monitoring yang dibangun adalah yang dikembangkan dari data yang diambil dari midleware yang dilakukan secar realtime dari end device dan dilakukan pengolahan data dalam dashboard dan mobile application yang akan dipergunakan petani dalam mengolah data realtime yang diambil dari tanaman holtikulture yang sedang ditanam. . Dalam aplikasi ini kita masih menggunakan hanya dua jenis tanaman cabe dan bawang merah. Sistem ini akan memberikan data pertanian presisi dalam hal pemberian air dan pupuk. Selain itu juga sistem ini mampu memberikan monitoring notifikasi kondisi tanam, umur tanaman dan petunjuk dalam penentuan tanaman. Tujuan sistem ini dapat membantu petani khususnya daerah indramayu yang merupakan penghasil holtikultura jenis bawang merah dan cabe dapat meningkatkan hasil panennya dan memberikan petunjuk dalam mengelola tanaman holitkulutura petani.
References
O. Vermesan and P. Friess, "Internet of Things – From Research and Innovation to Market Deployment,†2014.
K. U. Leuven, "Smart Farming for Europe EU-PLF.â€
S. Migdall, P. Klug, A. Denis, and H. Bach, "THE ADDITIONAL VALUE OF HYPERSPECTRAL DATA FOR SMART FARMING VISTA Remote Sensing in Geosciences GmbH , Gabelsbergerstr . 51 , 80333 München , Germany , University of Liège , Water , Environment and Development Unit , Arlon Campus Environment , Belgium , ,†pp. 7329–7332, 2012.
M. A. Ahmed and Y. Kim, "Machine-to-Machine Communication Infrastructure for Smart Wind Power Farms,†pp. 137–142, 2013.
S. Maheswararajah, S. K. Halgamuge, K. B. Dassanayake, and D. Chapman, "Management of Orphaned-Nodes in Wireless Sensor Networks for Smart Irrigation Systems,†Signal Process. IEEE Trans., vol. 59, no. 10, pp. 4909–4922, 2011.
F. Mehdipour, "Smart Field Monitoring: An Application of Cyber-Physical Systems in Agriculture (Work in Progress),†2014 IIAI 3rd Int. Conf. Adv. Appl. Informatics, pp. 181–184, 2014.
Y. Cho et al., "A workflow service scenario based on uWDL for smart agriculture,†2010 5th Int. Conf. Embed. Multimed. Comput. EMC-10 - Proc., pp. 1–4, 2010.
a. Grogan, "Smart farming,†Eng. Technol., vol. 7, no. 6, p. 38, 2012.
T. Jdiet, T. Ssgmce, and T. Gcoea, "Smart Design of Microcontroller Based Monitoring System for Agriculture,†pp. 1710–1713, 2014.
A. Sumarudin, T. Adiono, and W. P. Putra, "Flexible and Reconfigurable System on Chip for Wireless Sensor Network,†in International conference on information technology system and innovation (ICITSI) 2014, 2014, no. November, pp. 24–27.
_____.2017.Mangga gedong gincu unggul nusantara http://www.salamtani.id/mangga-gedong-gincu-unggul-nusantara/. Diakses Agustus 2018
____.Kabupaten Indramayu.https://id.wikipedia.org/wiki/Kabupaten_Indramayu. Diakses Agustus 2018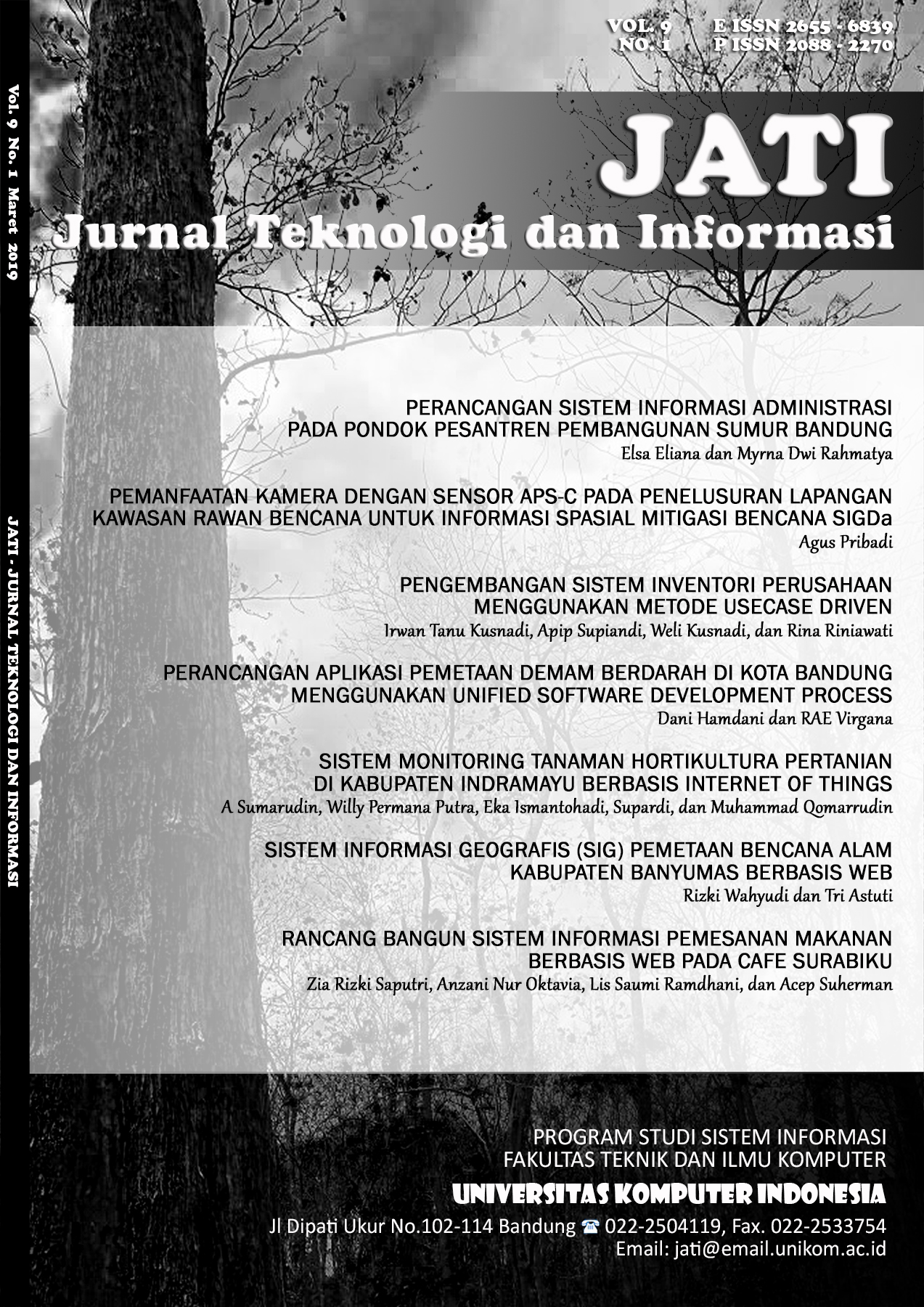 How to Cite
[1]
A. Sumarudin, W. Putra, E. Ismantohadi, S. Supardi, and M. Qomarrudin, "SISTEM MONITORING TANAMAN HORTIKULTURA PERTANIAN DI KABUPATEN INDRAMAYU BERBASIS INTERNET OF THINGS", JATI, vol. 9, no. 1, pp. 45-54, Mar. 2019.

This work is licensed under a Creative Commons Attribution-ShareAlike 4.0 International License.