RANCANG BANGUN SISTEM INFORMASI PEMESANAN MAKANAN BERBASIS WEB PADA CAFE SURABIKU
Zia Rizki Saputri

Sistem Informasi Akuntansi Kampus Kota Sukabumi Universitas Bina Sarana Informatika

Anzani Nur Oktavia

Sistem Informasi Akuntansi Kampus Kota Sukabumi Universitas Bina Sarana Informatika

Lis Saumi Ramdhani

Universitas Bina Sarana Informatika

https://orcid.org/0000-0002-9352-748X

Acep Suherman

Sistem Informasi Akuntansi Kampus Kota Sukabumi Universitas Bina Sarana Informatika
Abstract
Café is a place that serves drinks and food orders, café is also one of the centers of social interaction where people can gather, talk, write, read, joke, or just fill their time. Ordering is an activity carried out by consumers before buying. To realize customer satisfaction, the company must have a good ordering system. The research method used in this study uses data collection methods, namely by observation, interviews, and literature. While for software development using the waterfall method. At this time the Surabiku Cafe has difficulties in serving orders and still uses records that have not been computerized or still use conventional systems. Where the buyer has to wait too long to order food, besides that the waiter also has difficulty in manually recording orders using paper. Manually recording orders is less efficient in terms of time. So to realize customer satisfaction in food ordering, a web-based food ordering information system design was developed using PHP and Mysql.
Keywords: Ordering, Information System, Café, Web
References
G. Sukarno and L. Nirawati, "KONTRIBUSI HUMAN CAPITAL dan CUSTOMER CAPITAL DALAM MENGGAPAI KINERJA CAFÉ dan RESTO di SURABAYA," J. ILMU Sos., vol. 15, no. 2, p. 137, Nov. 2016.
S. Wasiyanti and R. Talaohu, "SISTEM INFORMASI PENJUALAN OBAT BERBASIS WEB PADA APOTEK KONDANG WARAS DEPOK," Paradig. - J. Komput. dan Inform., vol. 18, no. 2, pp. 49–62, 2016.
E. Taufik, Andi, "Perancangan Sistem Informasi Pemesanan Pentas Seni Berbasis Web Pada Sanggar Seni Getar Pakuan Bogor," IJcc, vol. 3, no. 2, pp. 1–7, 2017.
A. Fahrudin, B. E. Purnama, and B. K. Riasti, Kaisui yokujō no kanri un'ei ni kansuru shidō yōkō., vol. 3, no. 1. Hokkaidō, 1975.
D. Mahdiana, "Pengadaan Barang Dengan Metodologi Berorientasi Obyek : Studi Kasus Pt . Liga Indonesia," J. Telemat., vol. 3, no. 2, pp. 36–43, 2011.
E. W. Fridayanthie and T. Mahdiati, "Rancang Bangun Sistem Informasi Permintaan Atk Berbasis Intranet (Studi Kasus: Kejaksaan Negeri Rangkasbitung)," J. Inform., vol. 4, no. 2, pp. 126–137, 2016.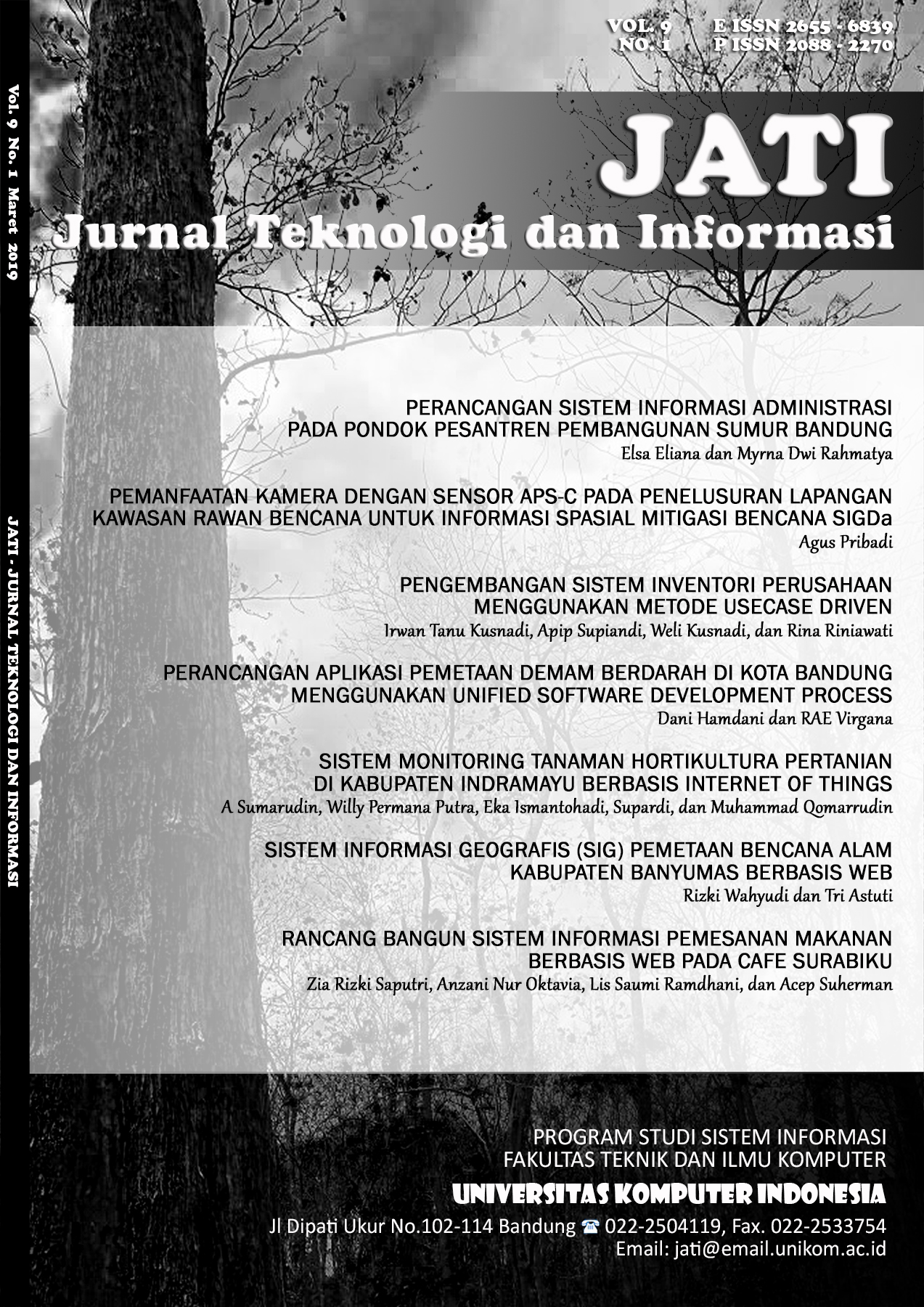 How to Cite
[1]
Z. Saputri, A. Oktavia, L. Ramdhani, and A. Suherman, "RANCANG BANGUN SISTEM INFORMASI PEMESANAN MAKANAN BERBASIS WEB PADA CAFE SURABIKU", JATI, vol. 9, no. 1, pp. 66-77, Mar. 2019.

This work is licensed under a Creative Commons Attribution-ShareAlike 4.0 International License.