PERANCANGAN SISTEM INFORMASI ADMINISTRASI PADA PONDOK PESANTREN PEMBANGUNAN SUMUR BANDUNG
Elsa Eliana

Universitas Komputer Indonesia

Myrna Dwi Rahmatya

Universitas Komputer Indonesia
Abstract
This study aims to build an administrative information system design at Bandung Sumur Development Boarding School. The system approach method used is a structured method using DFD. The results of this study are administrative applications at the Bandung Pembangungan Sumur Islamic Boarding School. Administrative activities at the Pesantren Pembangunan Sumur Bandung have not been well organized and managed. Data relating to administration has not been well integrated so that the available data is subject to redundancy and invalid. This will also have an impact on reporting and the quality of the report itself. Therefore, designing this administrative information system can improve the effectiveness of administrative performance. The administration has become more organized and well managed.
References
Karyana. Ayi, Enceng dan Darmanto, "Pengantar Ilmu Administrasiâ€, 1st Ed, Tangerang Selatan, Universitas Terbuka, 2014.
Gilda. Windi Tiana, "Sistem Informasi Administrasi Keuangan pada Pos PAUD Sekarwangi Informasiâ€, Bandung, UNIKOM, 2011.
Sutarman, "Pengantar Teknologi Informasiâ€, Yogyakarta, Bumi Aksara, 2009.
Yakub, "Pengantar Sistem Informasi", Yogyakarta, Graha Ilmu, 2012.
Karyana. Ayi, Enceng dan Darmanto,"Pengantar Ilmu Administrasi", Tanggerang Selatan, Universitas Terbuka, 2014.
Maksum, "Pola Pembelajaran di Pesantren", Jakarta, Departemen Agama RI, 2003.
Afrizal. Yasmi, Wahyuni dan Rauf Fauzan, â€Rekayasa Perangkat Lunak Software Engineering", Bandung, Unikom Pers, 2014.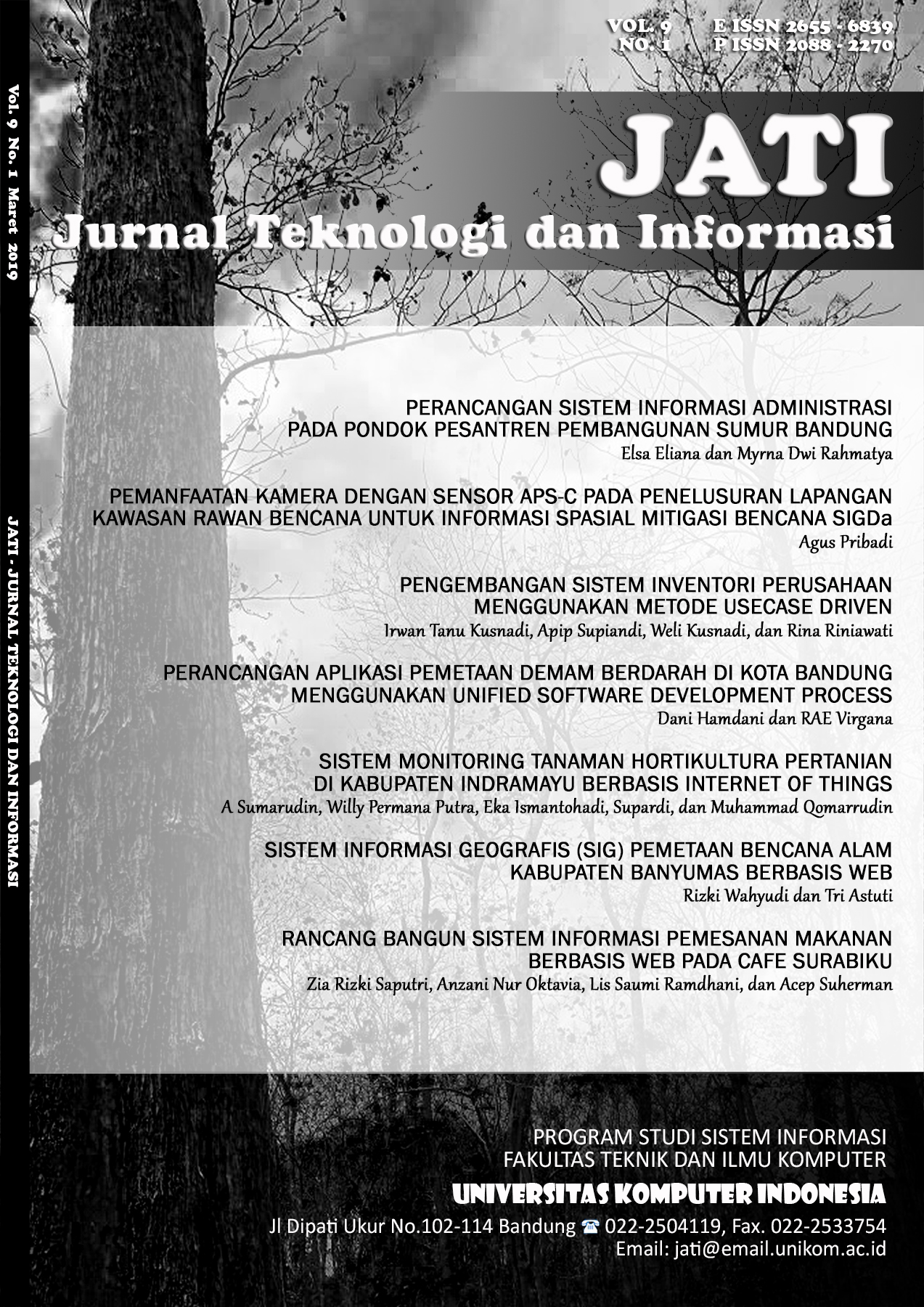 How to Cite
[1]
E. Eliana and M. Rahmatya, "PERANCANGAN SISTEM INFORMASI ADMINISTRASI PADA PONDOK PESANTREN PEMBANGUNAN SUMUR BANDUNG", JATI, vol. 9, no. 1, pp. 1-11, Mar. 2019.

This work is licensed under a Creative Commons Attribution-ShareAlike 4.0 International License.