ANALISIS POST-STRUKTURALISME PADA GENDERLESS FASHION DI JEPANG SEBAGAI REPRESENTASI AKTUALISASI DIRI OLEH GENERASI MUDA DI JEPANG
Tiara Radinska Deanda

Telkom University
Keywords:
image, representasi, genderless fashion, post-strukturalisme, Jepang
Abstract
ABSTRAK. Fesyen menjadi sebuah bentuk identitas yang telah lama digunakan oleh
masyarakat sebagai simbol dari jati diri secara individu atau kelompok. Generasi baru yang
membentuk subkultur baru serta pengaplikasian sebuah post-structuralism phenomenon
pada era modern dan pemaknaan dari diri masing-masing dikarenakan hasrat untuk
mempresentasikan diri merupakan suatu fenomena yang sangat menarik untuk dianalisis
karena tren genderless fashion yang kini kian marak dipopulerkan oleh generasi muda.
Banyaknya konsep yang bertentangan dengan ideologi dalam fesyen ini menjadi sebuah
intrik dalam memahami sudut pandang masyarakat sebagai 'Penonton' dan 'Pelaku'.
'Pelaku' yang menggunakan fesyen sebagai simbol dari identitas mereka mendapat reaksi
yang cukup tajam dari 'penonton' atau masyarakat pada umumnya yang menganut
pemahaman gender secara umum atau general. Identitas gender dan post strukturalisme
yang mempengaruhi pandangan para pelaku genderless fashion dan masyarakat Jepang
yang memandang ataupun menilai (baik secara individu maupun kelompok) fenomena
tersebut akan dikaji dalam teori representasi, pemahaman gender serta sudut pandang dari
post strukturalisme itu sendiri.
Downloads
Download data is not yet available.
References
Buku
Buikema, R., & Tuin, I. v. (2009). Doing Gender in Media, Art and Culture. New York: Routledge.
D'Souza, Jeevan. (2018). Self-Actualization.
Fakih, D. M. (2010). Analisis Gender dan Transformasi Sosial. Yogyakarta: Pustaka Pelajar.
Goffman, E. (1956). The Presentation of Self in Everyday Life. United States of America: Random House.
Maslow, A. (1943). A Theory of Human Motivation. Toronto.
Schaum, M., & Flanagan, C. (1992). Gender Images : Reading for Composition. Boston: Houghton Mifflin Company.
Williams, J. (2005). Understanding Poststructuralism. Chesham: Acumen Publishing Limited.
Zborowska, Agata. (2015). Deconstruction in contemporary fashion design: Analysis and critique.
Website
https://otakulounge.wordpress.com/2017/05/24/kawaii-minus-gender-genderless-kei/ (diakses pada 15 Oktober 2017)
http://www.newnownext.com/meet-the-japanese-youth-embracing-genderless-fashion/07/2017/ (diakses pada 15 Oktober 2017)
https://medium.com/@TokyoFashion/genderless-kei-japan-s-hot-new-fashion-trend-9e25a2c559c6 (diakses pada 15 Oktober 2017)
https://edition.cnn.com/style/article/genderless-kei-fashion-japan/index.html
(diakses pada 29 Oktober 2020)
https://i-d.vice.com/en_us/article/8xn7pp/exploring-genderless-kei-harajukus-online-fashion-revival
(diakses pada 29 Oktober 2020)
https://theconversation.com/japans-gender-bending-history-71545
(diakses pada 29 Oktober 2020)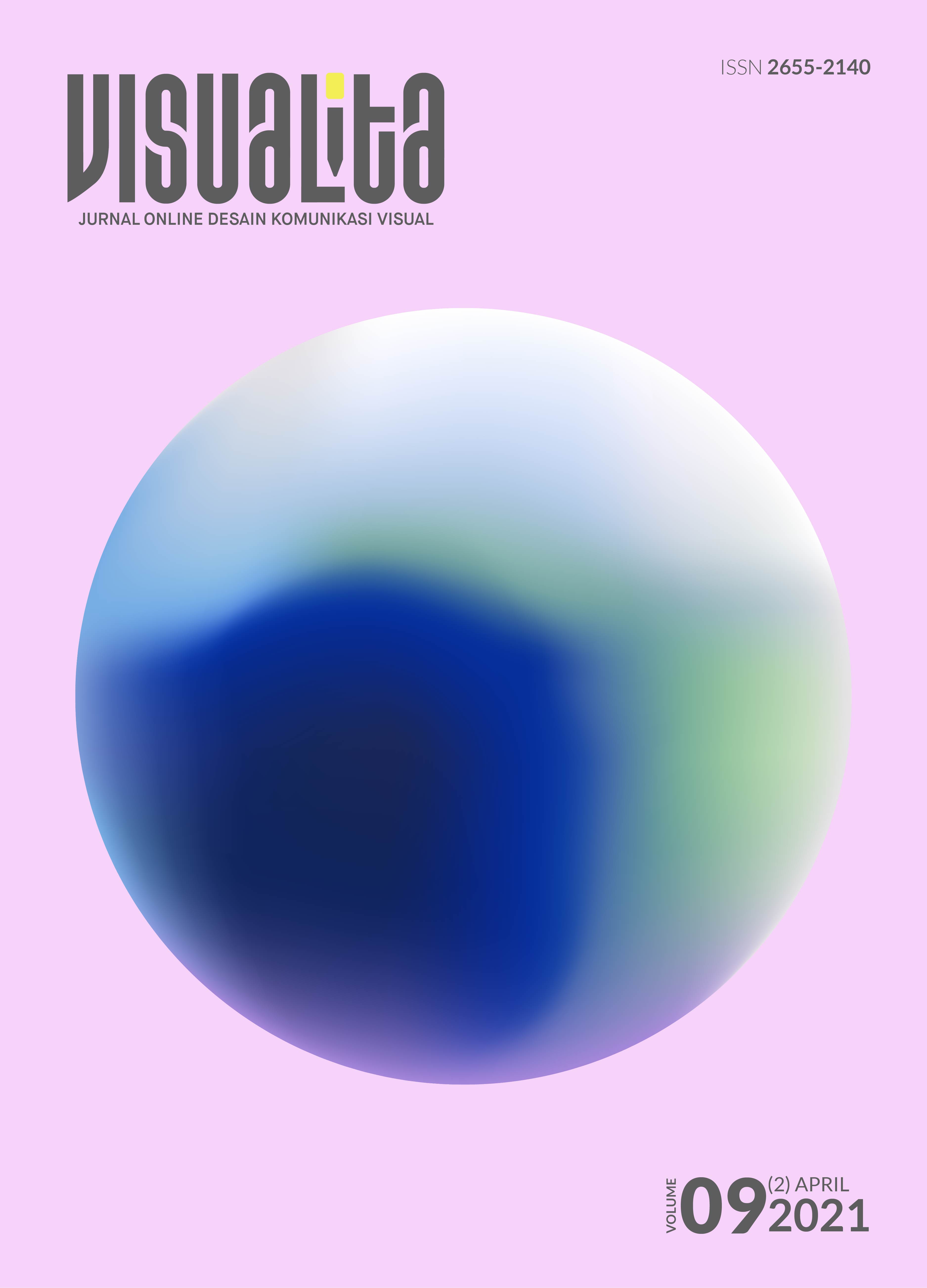 How to Cite
[1]
T. Deanda, "ANALISIS POST-STRUKTURALISME PADA GENDERLESS FASHION DI JEPANG SEBAGAI REPRESENTASI AKTUALISASI DIRI OLEH GENERASI MUDA DI JEPANG", Visualita, vol. 9, no. 2, p. 12, Apr. 2021.
Copyright (c) 2021 Tiara Radinska Deanda
This work is licensed under a Creative Commons Attribution-NonCommercial 4.0 International License.
Authors who publish with Visualita agree to the following terms:
Authors retain copyright and grant the journal right of first publication with the work simultaneously licensed under a Creative Commons Attribution-NonCommercial 4.0 International License.

Authors are able to enter into separate, additional contractual arrangements for the non-exclusive public distribution and display of the journal's published version of the work (e.g., post it to an institutional repository or publish it in a book), with an acknowledgement of its initial publication in this journal.

Authors wishing to include items (such as images or other media, or any creative works of others whether previously published or not) must contact the original copyright holder to obtain explicit permission to publish these items in Visualital. Writing permission should include: the title(s) of any copyrighted work, original place of publication if applicable, and an acknowledgement of having read Visualita copyright notice. Authors are responsible for obtaining this permission and keeping it in their own records for later verification.