SUSTAINABLE PACKAGING DESIGN (STUDI KASUS PENGUKURAN PERSEPSI DESAIN KEMASAN PRODUK JAMU HOUSEBLEND SUWE ORA JAMU)
Rahmiati Aulia

Telkom University

Wahyu Ramandha Putro

Magister Desain, Universitas Trisakti
Keywords:
packaging design, perception, jamu kekinian, Jakarta
Abstract
ABSTRAK. Berkembangnya industri jamu dari sektor UMKM di pulau Jawa disebabkan
oleh gaya hidup sehat masyarakat yang semakin meningkat. Fenomena ini termanifestasi
menjadi sebuah produk jamu tradisional dengan format baru yang didukung oleh desain
kemasan yang baik. Kini jamu ini populer dengan istilah Jamu Kekinian. Jamu Houseblend
SOJ adalah salah satu produk Jamu Kekinian dari Kedai Suwe Ora Jamu yang menjadi
pioner dalam memperkenalkan kembali budaya minum jamu kepada generasi millenials
sejak tahun 2013 di Jakarta. Adapun tujuan dari penelitian ini adalah bagaimana kemudian
produk Jamu Houseblend SOJ dipersepsi konsumennya melalui kuesioner. Metode analisis
yang akan digunakan adalah studi literatur, wawancara dan penyebaran kuesioner. Melalui
penelitian ini diketahui bahwa kombinasi warna pada desain kemasan adalah hal yang
perlu diperhatikan oleh perusahaan Kedai Suwe Ora Jamu. Hasil temuan ini diharapkan
dapat menjadi tolak ukur bagi perusahaan Jamu Kekinian dalam pengembangan produk.
Downloads
Download data is not yet available.
References
Alizamar, & Couto, N. (2016). Psikologi Persepsi dan Desain Informasi; Sebuah Kajian
Psikologi Persepsi dan Prinsip Kognitif untuk Kependidikan. In Journal of Chemical
Information and Modeling. https://doi.org/10.1017/CBO9781107415324.004
Andriati, A., & Wahjudi, R. M. T. (2016). Tingkat penerimaan penggunaan jamu sebagai
alternatif penggunaan obat modern pada masyarakat ekonomi rendah-menengah dan
atas. Masyarakat, Kebudayaan Dan Politik.
https://doi.org/10.20473/mkp.v29i32016.133-145
Bella, A. (2018). Milenial dan Tren Gaya Hidup Sehat. https://marketeers.com/milenialdan-
tren-gaya-hidup-sehat/ diakses
BPOM RI. (2018). BPOM Hari ini 2018.
https://pom.go.id/new/view/more/pers/406/Siaran-Pers-- Jamu-Sebagai-Warisan-
Budaya-Bangsa-Dan--Penggerak-Perekonomian- Indonesia.Html
Dameria, A. (2014). Packaging Handbook: Where Creative Ideas Become Reality. Link &
Match Graphic.
Dunsford, A. (2013). Product Name VS Packaging Design: Which is more important?
Thoughts from AJD Creative. http://ajdcreative.com.au/thoughts/product-namevspackaging-
design-which-is-more-important#.VsNZNeZNj5c
Gumulya, D., & Onggo, T. A. (2016). Penelitian Persepsi Kemasan Produk Skin Care
Wanita dengan Pendekatan Teori Semantik. Journal of Visual Art and Design.
https://doi.org/10.5614/j.vad.2016.8.2.4
Klimchuk, M. R., & Krasovec, S. A. (2012). Packaging Desing. Successful Product
Branding from Concept to Shelf, John Wiley&Sons. In Inc., New Jersey.
Peraturan Menteri Kesehatan Republik Indonesia Nomor 006. (2012). Industri dan Obat
Tradisional. Mentri Kesehatan Republik Indonesia.
Prathama, N. Y., & Setianto, D. (2016). ANALISIS ELEMEN VISUAL KEMASAN
CHIKI SNACK. Jurnal Dimensi Seni Rupa Dan Desain.
https://doi.org/10.25105/dim.v12i2.42
Sadalia, I., Pendampingan, A., Kapasitas, D. P., Kualitas, D., Jamu…, P., Dan, P.,
Kapasitas, P., Hasibuan, B. K., & Sumatri, B. (2017). Produksi Jamu Yang Berbasis
Green System. 2(1), 6–11. http://jurnal.usu.ac.id/abdimas
Sugiyono. (2017). Metode Penelitian Bisnis (Pendekatan Kuantitatif, Kualitatif, Kombinasi
dan R&D). In Metodelogi Penelitian.
Tjiptono, F. (2011). Manajemen & Strategi Merek. Andi Offset.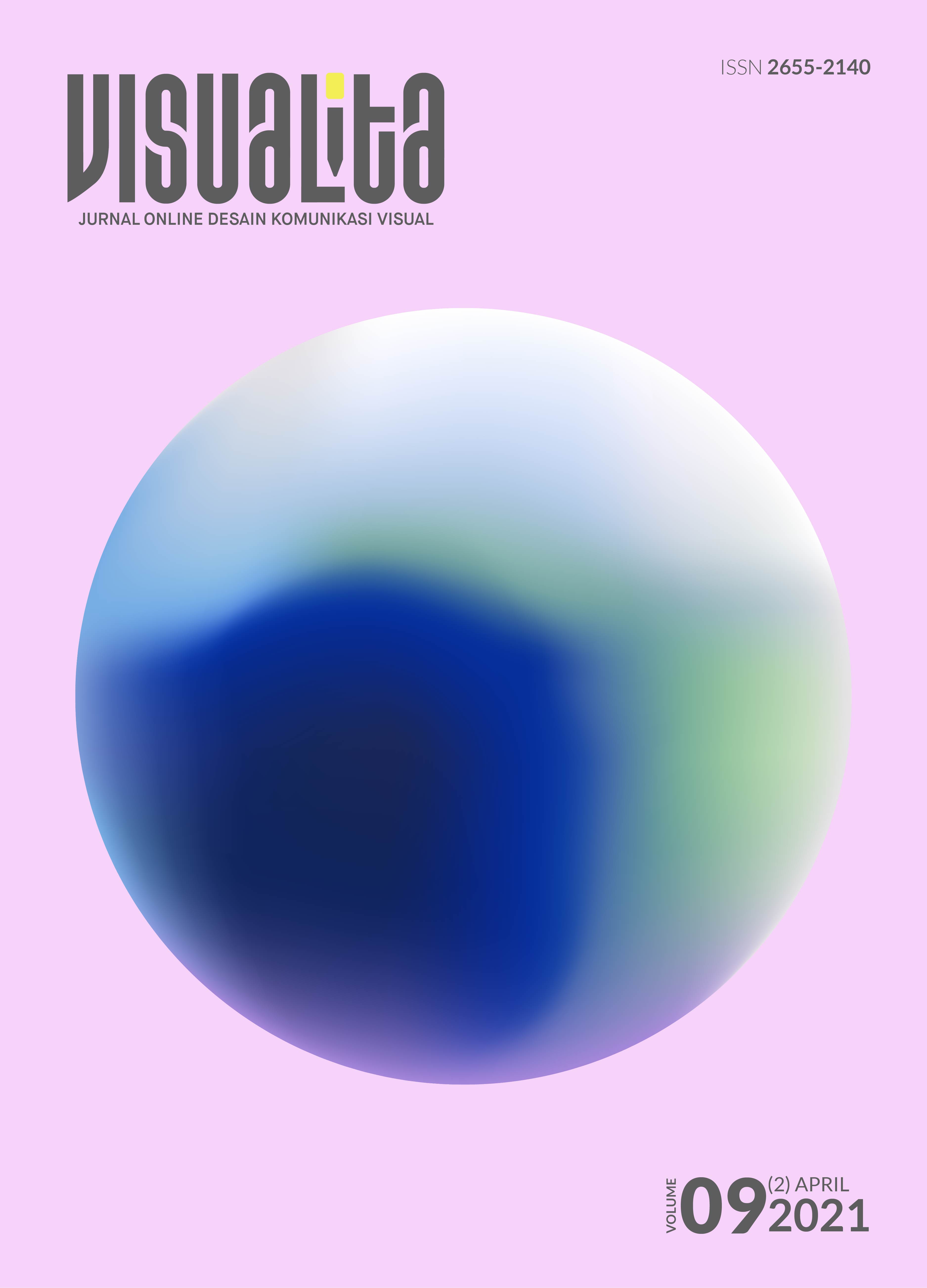 How to Cite
[1]
R. Aulia and W. Putro, "SUSTAINABLE PACKAGING DESIGN (STUDI KASUS PENGUKURAN PERSEPSI DESAIN KEMASAN PRODUK JAMU HOUSEBLEND SUWE ORA JAMU)", Visualita, vol. 9, no. 2, p. 15, Apr. 2021.
Copyright (c) 2021 Rahmiati Aulia, Wahyu Ramandha Putro
This work is licensed under a Creative Commons Attribution-NonCommercial 4.0 International License.
Authors who publish with Visualita agree to the following terms:
Authors retain copyright and grant the journal right of first publication with the work simultaneously licensed under a Creative Commons Attribution-NonCommercial 4.0 International License.

Authors are able to enter into separate, additional contractual arrangements for the non-exclusive public distribution and display of the journal's published version of the work (e.g., post it to an institutional repository or publish it in a book), with an acknowledgement of its initial publication in this journal.

Authors wishing to include items (such as images or other media, or any creative works of others whether previously published or not) must contact the original copyright holder to obtain explicit permission to publish these items in Visualital. Writing permission should include: the title(s) of any copyrighted work, original place of publication if applicable, and an acknowledgement of having read Visualita copyright notice. Authors are responsible for obtaining this permission and keeping it in their own records for later verification.