RESCHEDULING GOTONG ROYONG UNTUK PENANGANAN KREDIT BERMASALAH PADA PT BPR BCS MAGETAN
Nurma Dwi Puspitasari

Universitas PGRI Madiun

Supri Wahyudi Utomo

Universitas PGRI Madiun

Elana Era Yusdita

Universitas PGRI Madiun
Abstract
ABSTRACT
The purpose of this study is to determine the handling of bad loans or problem loans at PT BPR BPR Buana Citra Sejahtera from the Bank's behavior or the behavior of bank employees. This type of research is qualitative research. The research method uses interviews and observations. The data source in this study is primary data, obtained from several employees of PT BPR Buana Citra Sejahtera related to the credit section. Troubled credit handling carried out by the behavior of PT BPR Buana Citra Sejahtera employees in addition to implementing technical imposed by the Financial Services Authority, namely in the form of rescheduling, reconditioning, restructuring, and confiscation of guarantee goods. PT BPR Buana Citra Sejahtera also applies a sense of chair and humanity by through the process of resignation of the monthly book close to wait for customers who have agreed to pay off their bad credit. So besides considering the return of credit for the bank in the end there are values caught on the practice of PT BPR Buana Citra Sejahtera, namely still considering a sense of mutual cooperation, humanity, kinship.
Keywords: People's credit bank, employee behavior, accounting for confectional, financial institutions, principle timeliness.
ABSTRAK
Tujuan dari penelitian ini yaitu  untuk mengetahui penanganan kredit macet atau kredit bermasalah pada PT BPR  Buana Citra Sejahtera  dari perilaku pihak bank atau perilaku karyawan bank.  Jenis penelitian  ini  adalah penelitian kualitatif. Metode penelitian menggunakan   wawancara dan observasi. Sumber data pada penelitian ini adalah data primer, diperoleh dari beberapa karyawan PT BPR Buana Citra Sejahtera yang berhubungan dengan bagian kredit. Penanganan kredit bermasalah yang dilakukan oleh perilaku karyawan PT BPR Buana Citra Sejahtera selain menerapkan tehnik yang diberlakukan oleh Otoritas Jasa Keuangan yaitu berupa rescheduling, reconditioning, restructuring, serta penyitaan barang jaminan. PT BPR Buana Citra Sejahtera juga menerapkan  rasa kekelurgaan dan kemanusian dengan melalui proses  pengunduran tanggal tutup buku bulanan untuk menunggu nasabah yang telah sepakat akan melunasi kredit macetnya. Jadi selain pertimbangan kembalinya kredit untuk pihak bank pada akhirnya terdapat nilai-nilai yang tertangkap pada praktik PT BPR Buana Citra Sejahtera yaitu masih mempertimbangkan rasa gotong royong, kemanusiaan, kekeluargaan.
Kata Kunci: Bank perkreditan rakyat, Perilaku karyawan, Akuntansi keperilakuan, Lembaga Keuangan, Prinsip ketepatan waktu.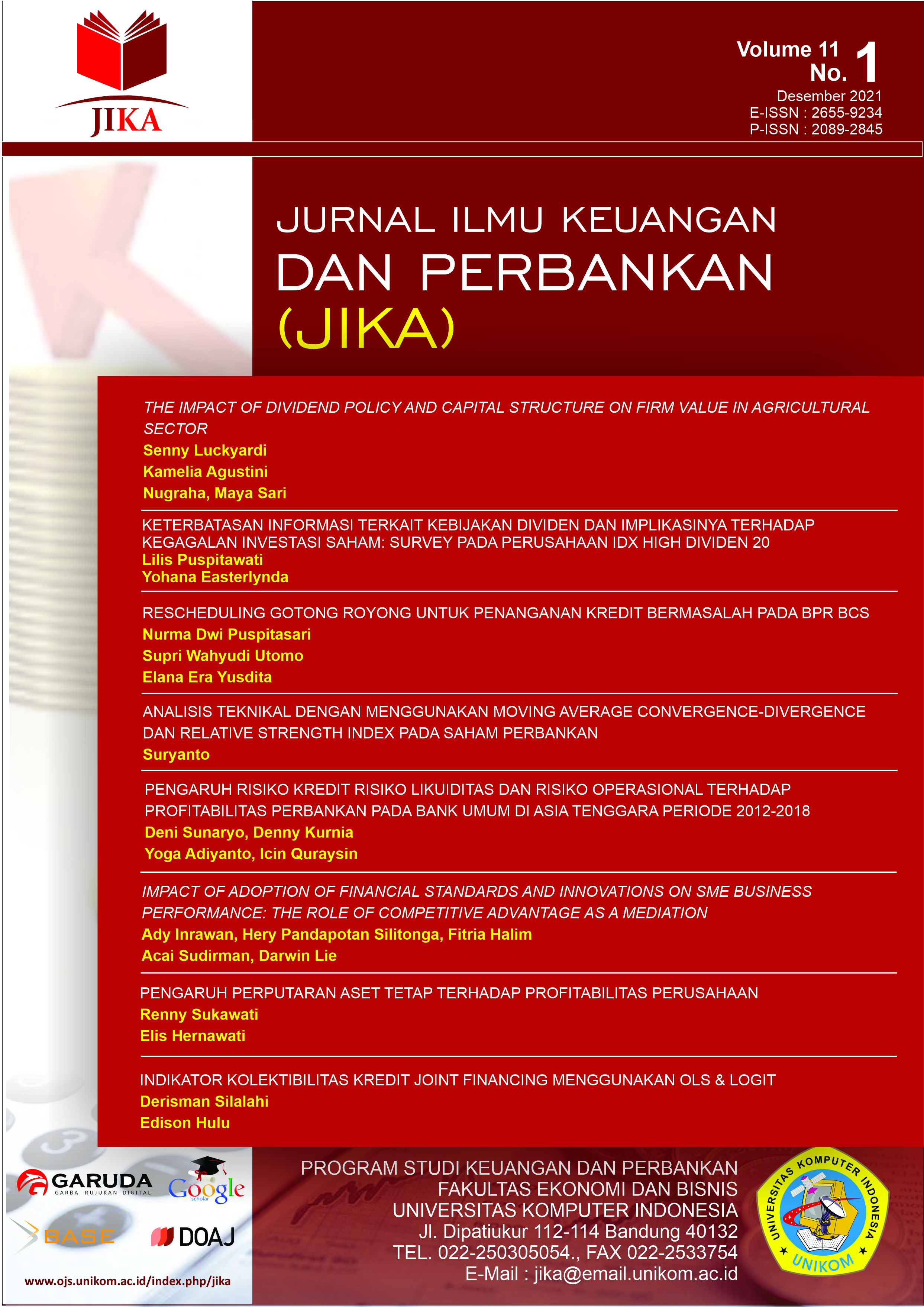 How to Cite
Puspitasari, N. D., Utomo, S. W., & Yusdita, E. E. (2021). RESCHEDULING GOTONG ROYONG UNTUK PENANGANAN KREDIT BERMASALAH PADA PT BPR BCS MAGETAN. Jurnal Ilmu Keuangan Dan Perbankan (JIKA), 11(1), 33-52. https://doi.org/10.34010/jika.v11i1.5058