AESTHETIC COMPARATIVE STUDY OF RADEN TJETJE SOMANTRI'S AND KARYA IRAWATI DURBAN ARDJO'S MERAK DANCE
Keywords:
Aesthaetic, Costume, Merak Dance, West Java
Abstract
West Java is one of the provinces that has a religious community with a wealth of cultural heritage and traditional noble values. As one example of the culture of West Java is dance, there are various kinds of dances in West Java. One dance that is widely known by the public is the Peacock Dance. The Peacock Dance is a dance originating from West Java and was created by Raden Tjetje Somantri in 1955. However, in contrast to the Peacock Dance that is often found today is the work of Irawati Durban which was remade costumes and choreography in 1965. Therefore researchers chose "Study Comparative on Peacock Dance Costumes Rd. Tjetje Somantri and Irawati Durban Ardjo's Work Through Aesthetic Upholdingâ€. This research uses descriptive qualitative research methodology using aesthetic theory. The classicist technique used is literature study, observation, interview and documentation. In the visual form of the peacock dance several differences and similarities were found in the Tjetje Peacock Dance costume and the Irawati Peacock Dance costume. Likewise with the choreography that has the same aspects, different, and added, so that the two peacock dances are compared. Research focuses on aesthetic elements in the visual form of peacock dance costumes and choreography.
Downloads
Download data is not yet available.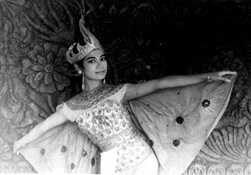 How to Cite
Kartiyani, M. (2018). AESTHETIC COMPARATIVE STUDY OF RADEN TJETJE SOMANTRI'S AND KARYA IRAWATI DURBAN ARDJO'S MERAK DANCE. ARTic, 1(2), 59-66. https://doi.org/10.34010/artic.2018.2.2523.59-66