STUDY OF FORM AND MEANING OF SYMBOLIC INDIGENOUS HOUSE OF GORONTALO
CASE STUDY OF BUILDING RESULTS OF THE RECONSTRUCTION OF THE BANTAYO PO' BOIDE TRADITIONAL HOUSE OF GORONTALO REGENCY
Almer Hassan Ali

Postgraduate Program Master of Design Program Indonesian Computer University
Keywords:
Bantayo Po' Boide, Ornaments, Structure, Traditional House
Abstract
This research generally aims to gain knowledge about the traditional values of the Bantayo Po 'Boide Traditional House by trying to express the cultural values of the people of Gorontalo Regency. Specifically: First describe the architectural components of the Bantayo Po' Boide Traditional House of Gorontalo Regency including the roof, parts of the body and the bottom of the building; and second Expressing the meaning of the symbols in the Bantayo Po 'Boide Traditional House of Gorontalo Regency. This research uses descriptive method by collecting various qualitative and quantitative data relating to the form and symbolic meaning of the Bantayo Po' Boide Traditional House of Gorontalo Regency, while the data collection uses the method of Observation, Documentation, Interview and Literature Study. The results of this study are: 1) Total of poles house supporting totaling 32 is known as the symbol of 32 directions of the compass. This means that the leaders must have attention to all aspects of people's lives without knowing favoritism; 2) Total of the front steps that amounted to 8 as a symbol of 8 small kingdoms that helped so that the kingdom of Limutu became large; 3) The main pillars, total 2, are embedded directly into the roof frame, as a symbol of the pledge of unity between the kingdoms of Hulonthalo and Limutu; 4) 6 pillars have 6 main characteristics of the Gorontalo people, namely: Tinepo (tolerance), Tombulao (respect), Tombulu (devotion to the government), Wu'udu (according to fairness), Adati (obedient to regulations), and Buto'o (obedient to judges decisions). In addition to the meaning of construction, the writer also found a variety of decorative meanings found in the Bantayo Po' Boide traditional house. 1) The front of the house there is a stylized ornament of lotus and breadfruit plants and grouse. Symbol of lotus ornament of leaders who love democratic life. The meaning of breadfruit plants as protectors, while the grouse described as Gorontalo people who are small but agile and smart. 2) Ornaments on the edge of the banyan and triangular tree ceiling. The meaning of the banyan tree is strength and unity, while the triangle is the 3 elements of life (God, King, People). 3) Ornaments in the ventilation of doors and windows are stylized in the form of spears and shields, which have the meaning of guardianship or vigilance. 4) The living room ceiling ornament is a combination of lotus flowers and chains. Where the lotus means the leader of the people while the chain means the kinship ties of the kingdoms of Hulonthalo and Limutu. 5) Ornaments on lyst plank are stylized from jasmine plants which have the meaning of glory and friendliness.
Downloads
Download data is not yet available.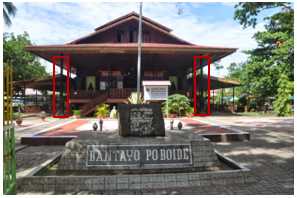 How to Cite
Ali, A. (2019). STUDY OF FORM AND MEANING OF SYMBOLIC INDIGENOUS HOUSE OF GORONTALO. ARTic, 2(2), 203-214. https://doi.org/10.34010/artic.2019.4.2457.203-214