REPRESENTATION OF IDOL, LEVI AND MIKASA, ON ANIMATION FILM SHINGEKI NO KYOJIN
Endah Riana Endarini

Postgraduate Program Master of Design Program Indonesian Computer University
Keywords:
Idol, Levi and Mikasa, Representation, Shingeki No Kyojin, Wimba
Abstract
This study aims to identify the visual aspects and personality of Levi and Mikasa that make it an Idol. The method uses descriptive qualitative analysis, with an approach design to examine each visual aspect of the face, hair, and clothing. It also uses a psychological and cinematographic approach in examining Levi and Mikasa's personality which is displayed through scenes in the movie. The results of this study indicates that the idol figures in the Shingeki no Kyojin movie were chosen based on their personality rather than their visual appearance. The figure who is used as an idol is a character who has a calm, cool personality, can put aside the feelings but still has a sense of caring, not so much talk, strong and strength is recognized by many people, brave and skillful. Visually, idol figures are displayed through color themes that tend to be black, white and gray, as well as the shape of the eyes and lips that have the meaning of strength. Other aspects such as lighting, coloring, shooting size, angle of shooting, and additional lines have an effect on strengthening the personality of the characters displayed in the movie scene.
Downloads
Download data is not yet available.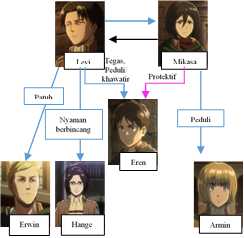 How to Cite
Endarini, E. (2019). REPRESENTATION OF IDOL, LEVI AND MIKASA, ON ANIMATION FILM SHINGEKI NO KYOJIN. ARTic, 2(2), 177-192. https://doi.org/10.34010/artic.2019.4.2448.177-192