VISUAL STUDY OF MOLAPI SARONDE DANCE CLOTHING AND CHOREOGRAPHY IN GORONTALO CITY
Siska Udilawaty

Fakultas Pascasarjana Program Studi Magister Desain Universitas Komputer Indonesia
Keywords:
Meaning, Molapi Saronde Dance Clothing, Motives, Visual Culture
Abstract
This study aims to examine the Visual Molapi Saronde Dance Dress. The Saronde dance is a typical Gorontalo regional dance that has been inherited and patented as a non-fine heritage. Molapi dance saronde is a dance performed on the engagement night by the groom to see prospective wives. The results of this study are to explain the meaning of the molonde dance clothing starting from materials, clothing colors and motifs as well as the accompanying accessories and explain the meaning of the choreography of the Molapi saronde dance along with creative saronde dance. The approach used in this study is a qualitative descriptive approach. The technique of collecting data is done through observation, interviews, documentation studies and document studies. So, the conclusion of this study is that there is a meaning contained in the molapi saronde dance clothes, one of which is the meaning of headdress, namely Baya lo boute is a special headband for women's hair that gives a symbol, that women who wear it have been bound with a responsibility. As for Saronde dance, it is an innovation from Molapi Saronde dance, but the dance still has meaning or meaning that is maintained and cannot be changed. Although there was a slight change from movement, clothing, and musical accompaniment.
Downloads
Download data is not yet available.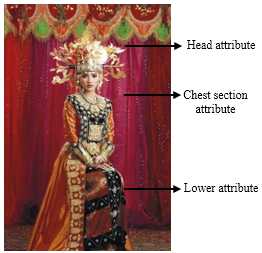 How to Cite
Udilawaty, S. (2019). VISUAL STUDY OF MOLAPI SARONDE DANCE CLOTHING AND CHOREOGRAPHY IN GORONTALO CITY. ARTic, 2(2), 155-166. https://doi.org/10.34010/artic.2019.4.2416.155-166