AKIBAT HUKUM PERDAGANGAN NARKOBA SEBAGAI KEJAHATAN TRANSNASIONAL
Legal Consequences Of Drug Trafficking As Transnational Crime
Hetty Hassanah

Fakultas Hukum Universitas Komputer Indonesia
Keywords:
Perdagangan Narkoba, Kejahatan Lintas Negara, Akibat Hukum, Penegakan Hukum, Kejahatan Internasional Konvensi Internasional, Drug Trafficking, Transnational Crime, Legal Consequences, Law Enforcement, International Crime International Convention
Abstract
Abstrak
Tujuan penelitian ini dilakukan untuk mengetahui akibat hukum dari peredaran narkoba lintas batas sebagai kejahatan transnasional. Penelitian ini bersifat deskriptif analitik, dengan menggunakan pendekatan yuridis normatif dan data yang diperoleh dianalisis secara yuridis kualitatif, dalam hal ini analisis dilakukan dengan mempertimbangkan hierarki peraturan perundang-undangan agar suatu peraturan perundang-undangan tidak bertentangan dengan peraturan perundang-undangan lainnya. Berdasarkan hasil penelitian peredaran narkoba tidak hanya dilakukan secara konvensional, namun telah melewati batas negara sehingga dianggap sebagai kejahatan transnasional. Dengan demikian peredaran narkoba saat ini menjadi masalah hukum global karena tidak hanya melibatkan satu negara tetapi juga melibatkan beberapa negara dengan sistem hukum negara tersebut. Dampak dari penelitian ini menggambarkan perlunya penegakan hukum terhadap peredaran narkoba lintas batas sebagai kejahatan transnasional. Kesimpulannya, akibat hukum perdagangan narkoba sebagai kejahatan transnasional dapat dituntut tidak hanya berdasarkan peraturan perundang-undangan Indonesia tetapi juga internasional karena Indonesia telah meratifikasi Convention Against Gelap Traffic In Narcotic Drugs And Psychotropic Substances 1988.
Abstract
The purpose of this research is to conducted to determine the legal consequences of cross-border drug trafficking as a transnational crime. This research is descriptive analytic, using a normative juridical approach and the data obtained is analyzed juridically qualitatively, in this case the analysis is carried out by considering the hierarchy of laws and regulations so that a statutory regulation does not conflict with other laws and regulations. Based on the research results drug trafficking is not only carried out conventionally, but has crossed national borders so that it is considered a transnational crime. Thus the circulation of drugs is currently a global legal problem because it does not only involve one country but also involves several countries with that country's legal system. The impact of this study illustrates the need for law enforcement for cross-border drug trafficking as a transnational crime.  The conclusion is that the legal consequences of drug trafficking as a transnational crime can be prosecuted not only based on Indonesian legislation but also internationally because Indonesia has ratified the Convention Against Illicit Traffic In Narcotic Drugs And Psychotropic Substances 1988.
References
Boister, Neil. Transnational Criminal Law. EJIL. New York. 2018.
Cecilia Lopez Badano and mariana Ortega Brena, Drug Trafficking and Literature : Dangerous Liaisons, Latin America Perspectives Vol. 41, No. 2, 2018
Georgios Barzoukas, Drug Trafficking In The MENA : The Economics and The Politics, European Union Institute Security Studies (EUISS), 2017
Hata. Individu dalam Hukum Internasional. STHB Press. Bandung. 2017
I Wayan Parthiana, Hukum Pidana Internasional, Yrama Widia, Bandung. 2018.
Karina Benssalah and jesse Sayles, Drug Trafficking's Effect On Coastal Ecosystems, Science New Series Vol 343 No. 6178, American Association For The Advancement of Science, 2014
Mochtar Kusumaatmadja. Hukum, Masyarakat, Dan Pembinaan Hukum Nasional. Bina Cipta. Bandung. 1986.
Phil Williams and Vanda Felbab Brown, Drug Traffiicking, Violence and Instability, Strategic Studides US Army War College, 2017
Romli Atmasasmita, Hukum Pidana Internasional, Eresco Bandung,2015
William O. walker, drug Trafficking in Asia, The Journal of Interamerican Studies and World Affairs, Cambridge University Press, Vol. 34 No. 3, 2016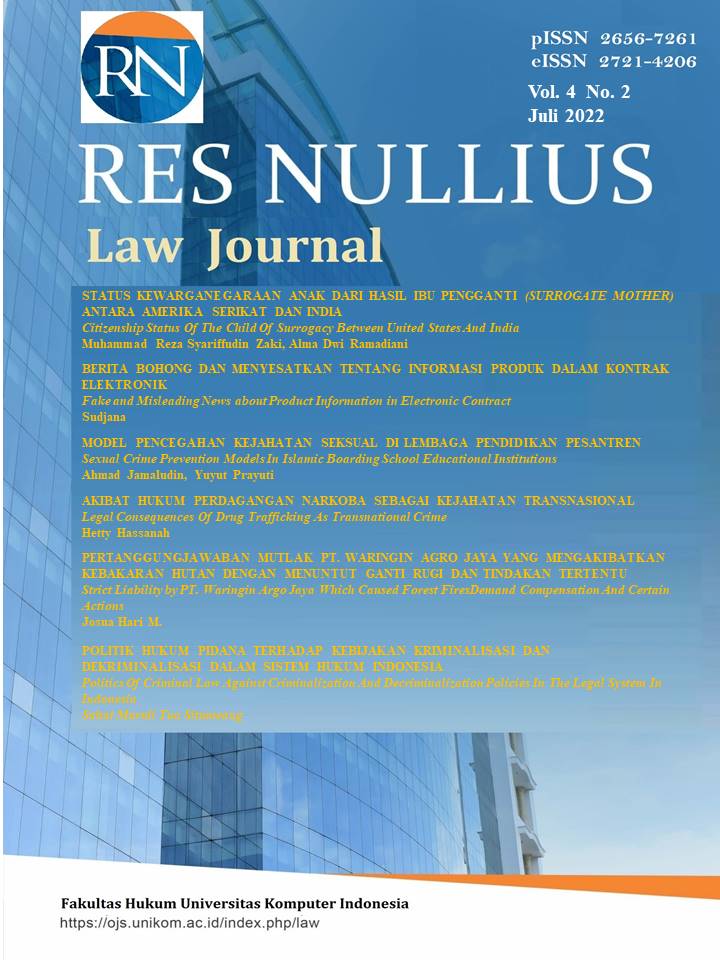 How to Cite
Hassanah, Hetty. 2022. "AKIBAT HUKUM PERDAGANGAN NARKOBA SEBAGAI KEJAHATAN TRANSNASIONAL". Res Nullius Law Journal 4 (2), 170-81. https://doi.org/10.34010/rnlj.v4i2.6851.
Copyright (c) 2022 Hetty Hassanah
This work is licensed under a Creative Commons Attribution 4.0 International License.

Ciptaan disebarluaskan di bawah Lisensi Creative Commons Atribusi 4.0 Internasional.