TANGGUNG JAWAB NEGARA ATAS DIGUNAKANNYA SENJATA SPACE-BASED MISSILE INTERCEPTOR SEBAGAI BENTUK UPAYA SELF-DEFENSE DARI NEGARA PENYERANG TERHADAP NEGARA PIHAK KETIGA DITINJAU DARI HUKUM INTERNASIONAL
State Responsibility For The Use Of Space-Based Missile Interceptor Weapons As A Self-Defense Effort From The Enemy Country Against Third Party States Reviewing From International Law
Virajati Adhazar

Program Studi Magister Ilmu Hukum Fakultas Hukum Universitas Sumatera Utara, Medan

Suhaidi Suhaidi

Program Studi Magister Ilmu Hukum Fakultas Hukum Universitas Sumatera Utara, Medan

Sutiarnoto Sutiarnoto

Program Studi Magister Ilmu Hukum Fakultas Hukum Universitas Sumatera Utara, Medan

Jelly Leviza

Program Studi Magister Ilmu Hukum Fakultas Hukum Universitas Sumatera Utara, Medan
Keywords:
State responsibility, self-defense, Space-Based Missile Interceptor, compensation
Abstract
Self-defense as an inherent right owned by a country is regulated in Article 51 of the UN Charter and due to the use of Space-Based Missile Interceptor (SBMI) weapons in space, the 1967 outer space treaty must also be guided. Because Article 4 of the 1967 Outer Space Treaty prohibits the use of weapons in space, the legality of using SBMI weapons is questionable. Therefore, this study was conducted to determine the legal provisions, forms of state accountability and the process of prosecuting compensation for countries using these weapons according to international law. The results of the study indicate that the use of SBMI weapons does not conflict with international law, because it is based on Article 103 of the UN Charter which states that if there are provisions in other legal rules that are contrary to the UN Charter, the UN Charter must be guided. So that self-defense actions based on Article 51 of the UN Charter do not violate the law. The party that must be absolutely responsible is the country that started the conflict, because it has violated the rules of international law in Article 2 paragraph (4) of the UN Charter and international humanitarian law. The compensation process is carried out according to the rules of the space liability convention 1972 and if in practice the party who is responsible does not show good faith in providing compensation, then it can be continued by referring to the dispute resolution process in the UN Charter.
References
Buku
Achmad Ali, Menguak Tabir Hukum (Suatu Kajian Filosofis dan Sosiologis), Penerbit Toko Gunung Agung, Jakarta, 2002.
Amiruddin, Zainal Asikin, Pengantar Metode Penulisan Hukum, PT Raja Grafindo Persada, Jakarta, 2004.
Amirudin dan Zainal Asikin, Pengantar Metode Penelitian Hukum, Grafindo Jakarta, 2004.
Andi hamzah, Kamus Hukum, Ghalia Indonesia, 2005.
Bintaro Tjokroamidjoyo dan Mustofa Adijoyo, Teori dan Strategi Pembangunan Nasional, Hadi Masagung, Jakarta, 1998.
Boer Mauna, Hukum Internasional, PT Alumni, Bandung, 2003.
Cst Kansil, Christine, S.T Kansil, Engelien R, Palandeng dan Godlieb N Mamahit, Kamus Istilah Hukum, Jakarta, 2009.
Denny Ramadhany, Dkk, Konteks Dan Perspektif Politik Terkait Hukum Humaniter Internasional Kontemporer, Rajawali Pers, Jakarta, 2015.
Diederiks Verschoor, Persamaan Dan Perbedaan Hukum Udara Dan Hukum Ruang Angkasa, Sinar Grafika, Jakarta, 1991
E. Saefullah Wiranda dan Mieke Komar K, Hukum Angkasa dan Perkembangannya, Remadja Karya, Bandung, 1988.
Garner, Bryan (ed). Black's Law Dictionary, Eight Edition. St. Paul: Thomson Business West, 2004.
Huala Adolf, Aspek-Aspek Negara Dalam Hukum Internasional, Keni Media, Bandung, 2011.
I.D.G Palguna, Hukum Internasional Ruang Angkasa (Outer Space Law) Kajian Pemanfaatan Untuk Maksud-Maksud Damai, Rajawali Pers, Depok, 2019.
Ida Bagus Wyasa Putra, Tanggungjawab Negara terhadap dampak Komersial Ruang Angkasa, PT. Refika Aditama, 2001.
Jawa Hirthontowi dan Pranoto Iskandar, Hukum Internasional Kontemporer, refika aditama, Bandung, 2006.
JJ. M. Wuisman, Penelitian Ilmu-Ilmu Sosial, Asas-Asas, Fakultas Ekonomi Universitas Indonesia, Jakarta, 1996.
Juanjir Sumardi, Hukum Ruang Angkasa, Pradnya Paramita, Jakarta, 1996.
M. Solly Lubis, Filsafat Ilmu dan Penelitian, Mandar Maju, Bandung, 1994.
Mardianis, Hukum Antariksa, Jakarta, Rajawali Pers, 2016.
Martono, Hukum Udara Angkutan Udara dan Hukum Angkasa Hukum Laut Internasional, Mandar Maju, Jakarta, 1995.
Mieke Komar Kantaatmadja, Berbagai Masalah Hukum Udara Dan Angkasa, Remaja Karya, Bandung, 1984.
Mochtar Kusumaatmadja. Etty R, Pengantar Hukum Internasional, PT Alumni, Bandung, 2015.
Modhtar Kusumaatmadja, Pengantar Hukum Internasional, Buku-I Bagian Umum, Binacipta, Bandung, 1976.
N. A. Shah, Self-Defense in Islamic and International Law, 2008.
Ni'matul Huda, Ilmu Negara, Rajawali Pers, Jakarta, 2011.
Ramiyanto dan Karyadin, Ilmu Negara, Budi Utama, Yogyakarta, 2020.
Riduan Syahrani, Rangkuman Intisari Ilmu Hukum, Penerbit Citra Aditya Bakti, Bandung, 1999.
Samidjo, Ilmu Negara, armico, Jakarta, 1986.
Sefriani, Peran Hukum Internasional Dalam Hubungan Internasional Kontemporer, Rajawali Pers, Jakarta, 2016.
Soerjono Soekanto, Sri Mamudji, Penulisan Hukum Normatif, PT Raja Grafindo Persada, Jakarta, 2007.
Sukanda Husin, Hukum Lingkungan Internasional, Rajawali Pers, Jakarta, 2016.
Sumardi Suryabrata, Metode Penelitian, Raja Grafindo, Jakarta, 2010.
Sutrisno Hadi, Metodologi Riserch 1, Yogyakarta, Gajah Mada, 1980.
Usep Ranawidjaja, Hukum Tata Negara Indonesia, Ghalla Indonesia, Jakarta, 1983.
Zainudin Ali, Metode Penelitian Hukum, Sinar Grafika, Jakarta, 2010.
Jurnal
A'an Efendi1, Dwi Nurhayati Adhani, Tanggung Jawab Negara Atas Hak Pendidikan Bagi Anak Berkebutuhan Khusus, Fakultas Hukum Universitas Jember, Fakultas Ilmu Pendidikan, Universitas Trunojoyo Madura, Volume 4 Nomor 2 Agustus 2018.
Adriel Berkat Sion Naibaho, Tanggung Jawab Negara Peluncur Terkait Kerugian Yang Diakibatkan Oleh Benda Angkasa Dikaji Dari Liability Convention 1972, Fakultas Hukum Unsrat, Lex Et Societatis Vol. VII/No. 5/Mei/2019
Irmeli M, Arun A, Research trends: Responsibilization in natural resource governance, Vol. 121. Forest Policy and Economics, 2020.
Maria Jose Recalde-Vela, Access to Redress for Stateless Persons Under International Law: Challenges and Opportunities, Vol. 182. Tilburg Law Review. 2019.
Munazza Khalid, Space Legal Regimes, Militarization, and Weaponization of Outer Space, 2021. Astropolitics
Rebaz Khdir, The Right to Self Defense In International Law As A Justification For Crossing Borders: The Turkey-PKK Case Within The Borders Of Iraq, Rusian Law Journal, University Of Minho, Volume IV, Issue 4, 2016.
Tri Lubis, Akibat Hukum Pembatalan Perjanjian Bilateral Terkait Pinjaman Kepada China Dalam Perspektif Hukum Internasional. Res Nullius Law Journal 3 (1). 2021.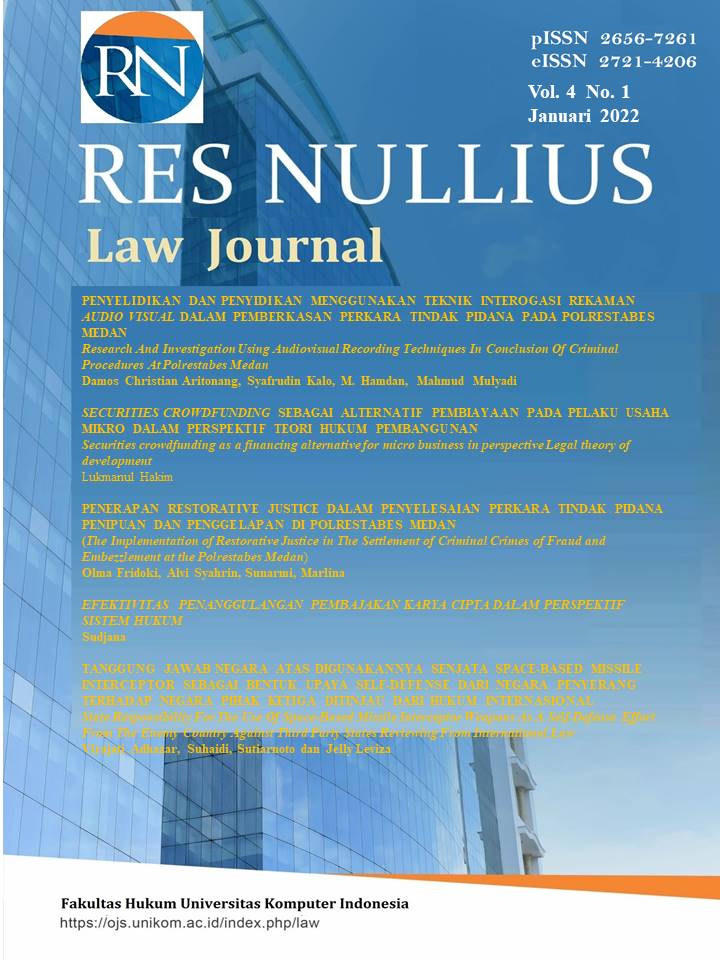 How to Cite
Adhazar, Virajati, Suhaidi Suhaidi, Sutiarnoto Sutiarnoto, and Jelly Leviza. 2022. "TANGGUNG JAWAB NEGARA ATAS DIGUNAKANNYA SENJATA SPACE-BASED MISSILE INTERCEPTOR SEBAGAI BENTUK UPAYA SELF-DEFENSE DARI NEGARA PENYERANG TERHADAP NEGARA PIHAK KETIGA DITINJAU DARI HUKUM INTERNASIONAL". Res Nullius Law Journal 4 (1), 100-126. https://doi.org/10.34010/rnlj.v4i1.5976.
Copyright (c) 2022 Virajati Adhazar, Suhaidi Suhaidi, Sutiarnoto Sutiarnoto, Jelly Leviza
This work is licensed under a Creative Commons Attribution 4.0 International License.

Ciptaan disebarluaskan di bawah Lisensi Creative Commons Atribusi 4.0 Internasional.