EFEKTIVITAS PENANGGULANGAN PEMBAJAKAN KARYA CIPTA DALAM PERSPEKTIF SISTEM HUKUM
Sudjana Sudjana

Universitas Padjadjaran
Keywords:
effectiveness, Piracy, Copyright
Abstract
This study aims to determine the effectiveness of countermeasures against copyright piracy from a legal system perspective. The research method used is a normative juridical approach, starting from secondary data consisting of primary legal materials, secondary legal materials, and tertiary legal materials. The data collection technique was carried out through document study and qualitative normative data analysis.
The legal structure is related to Law no. 28/2014 concerning Copyright still has obstacles related to the consistency of law enforcers (especially investigators, especially Civil Servant Investigators) who have carried out their functions but have not been effective due to internal and external constraints. In terms of legal substance, the Copyright Law has a normative weakness, namely adhering to a complaint offense against copyright crimes which causes law enforcement to take longer. Meanwhile, in terms of legal culture, the public has not fully respected the creations of other parties, as evidenced by the increasing number of piracy of copyright works and a way of thinking that considers intellectual property including copyright to only have a social function, even though it is also an individual right that has economic value. Therefore, the application of the legal system according to Friedman on the effectiveness of counter piracy of copyright works has not been effective.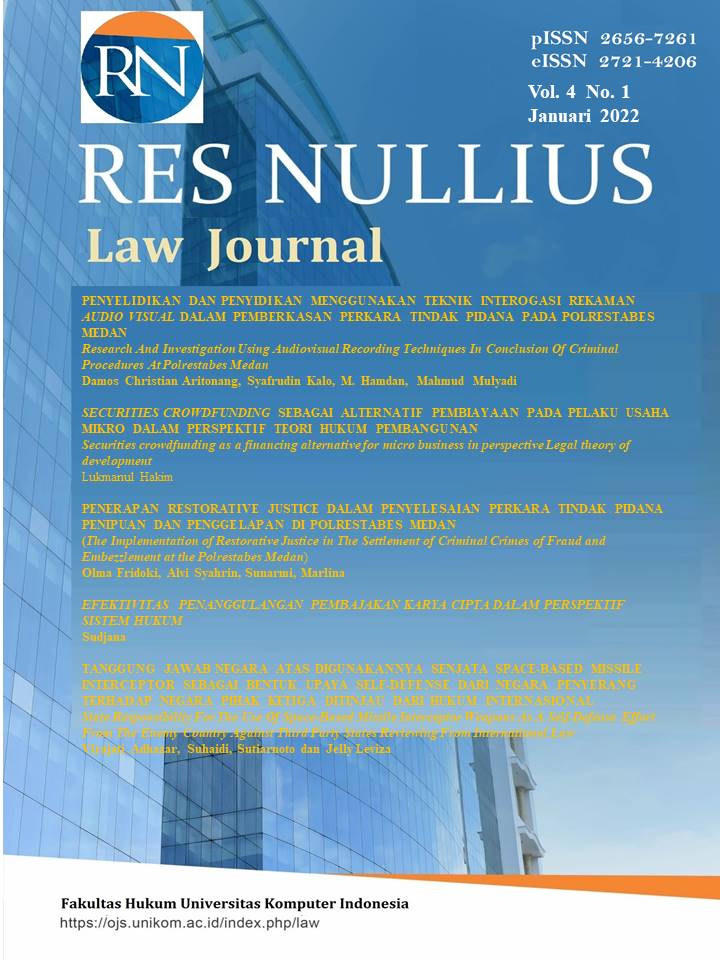 How to Cite
Sudjana, Sudjana. 2022. "EFEKTIVITAS PENANGGULANGAN PEMBAJAKAN KARYA CIPTA DALAM PERSPEKTIF SISTEM HUKUM". Res Nullius Law Journal 4 (1), 77-99. https://doi.org/10.34010/rnlj.v4i1.5939.
Copyright (c) 2022 Sudjana Sudjana
This work is licensed under a Creative Commons Attribution 4.0 International License.

Ciptaan disebarluaskan di bawah Lisensi Creative Commons Atribusi 4.0 Internasional.