PENERAPAN RESTORATIVE JUSTICE DALAM PENYELESAIAN PERKARA TINDAK PIDANA PENIPUAN DAN PENGGELAPAN DI POLRESTABES MEDAN
The Implementation of Restorative Justice in The Settlement of Criminal Crimes of Fraud and Embezzlement at the Polrestabes Medan
Olma Fridoki, Alvi Syahrin, Sunarmi, Marlina

Universitas Sumatera Utara
Keywords:
Fraud, Embezzlement, Restorative Justice
Abstract
In the implementation of restorative justice or settlement of cases outside the court, there are no longer any minor criminal cases, but also include cases such as humiliation, persecution, fraud and embezzlement, negligence resulting in injuries, unpleasant acts, even theft, and gambling. The ultimate goal of this restorative concept hopes to reduce the number of prisoners in prison; removing stigma or labels and returning criminals to normal human beings; criminals can realize their mistakes, so they do not repeat their actions and reduce the workload of the police, prosecutors, detention centers, courts, and correctional institutions; saving state finances does not cause resentment because the perpetrator has been forgiven by the victim, the victim quickly gets compensation; empowering the community in overcoming crime, and reintegrating criminals into society. The problems, namely: settlement through restorative justice eliminates criminal acts, or not. This research is normative legal research. The results showed that: Settlement of criminal cases of fraud and embezzlement through restorative justice does not eliminate criminal acts. It is recommended that the criminal policy for settlement of cases should be changed not to retaliate but to restore the losses incurred for the parties in litigation.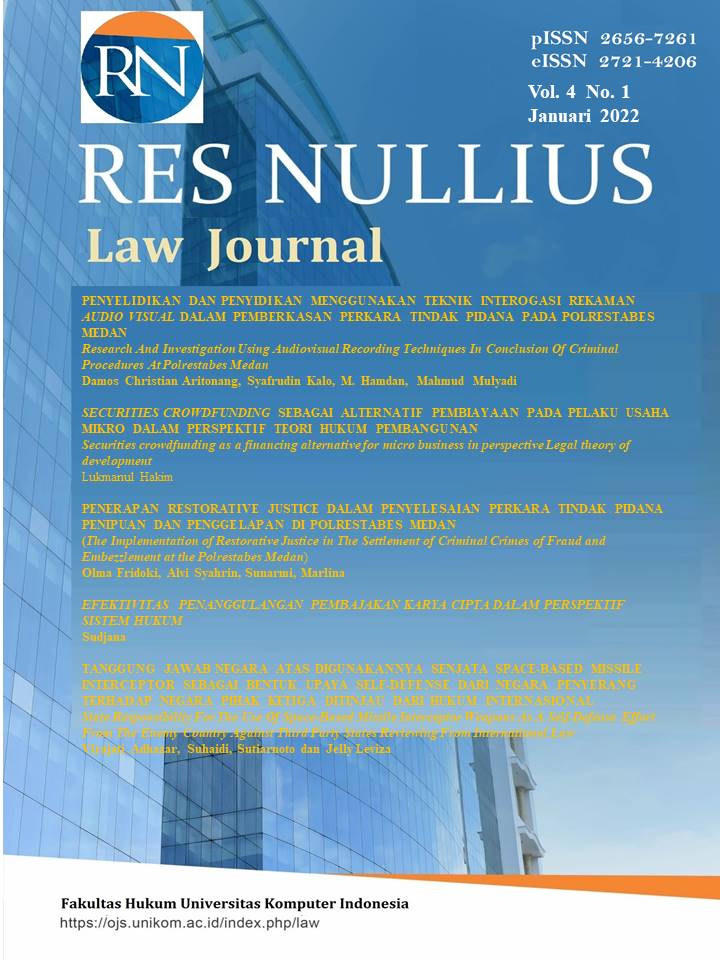 How to Cite
Sunarmi, Marlina, Olma Fridoki, Alvi Syahrin,. 2022. "PENERAPAN RESTORATIVE JUSTICE DALAM PENYELESAIAN PERKARA TINDAK PIDANA PENIPUAN DAN PENGGELAPAN DI POLRESTABES MEDAN". Res Nullius Law Journal 4 (1), 42-56. https://doi.org/10.34010/rnlj.v4i1.4679.
Copyright (c) 2022 Olma Fridoki, Alvi Syahrin, Sunarmi, Marlina
This work is licensed under a Creative Commons Attribution 4.0 International License.

Ciptaan disebarluaskan di bawah Lisensi Creative Commons Atribusi 4.0 Internasional.